GMDF Member Societies' Acting Auditions, Plays, Musicals and Pantomimes
GMDF members, if you need help to enter up your Audition / Production please click here.
Please click here to see a list of GMDF members' current casting requirements.
Production:
Pastiche & Worst Day of My Life
Dates:
02 Oct 14 to 02 Oct 14
Information:
Audition for these two one act plays will be Tuesday 2nd October 7.30pm in the Small Hall at Woodford Community Centre. map We are delighted to welcome Roger Browne, chairman of Stockport Amateur Operatic Society to Woodford. Roger will be directing both these plays and he will be issuing a character breakdown very shortly, so watch this space. Playing dates are 13th and 14th February 2015 at Woodford Community Centre.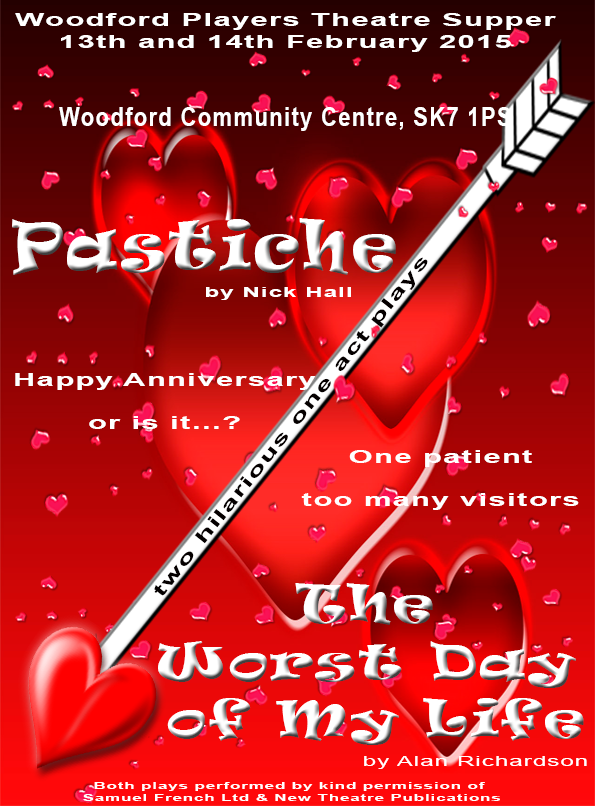 We will be presenting two fast-paced, hilarious comedies for Valentine's weekend theatre supper evening.
Pastiche – Sir Peter, has planned a dinner for two. His companion is Viola, a young chorus girl. But he's forgotten it's his wedding anniversary– his wife, Lady Alexandra, comes home early and aided by the butler, Medford, turns Sir Peter's evening into a shambles….
Worst Day of My Life – Charlie Brown's day in hospital begins very well. His devoted wife is at his bedside; a scene of conjugal bliss, that is until another female visitor arrives. When she reveals that she is also Mrs Brown, Charlie's got some explaining to do. As his previously secret life is hilariously disentangled, a third female visitor arrives, also claiming to be Mrs Brown. You'd think Charlie's day couldn't get much worse – but it does.
~ share