GMDF Member Societies' Acting Auditions, Plays, Musicals and Pantomimes
GMDF members, if you need help to enter up your Audition / Production please click here.
Please click here to see a list of GMDF members' current casting requirements.
Production:
A Steady Rain by Keith Huff
Dates:
12 Nov 19 to 16 Nov 19
Information: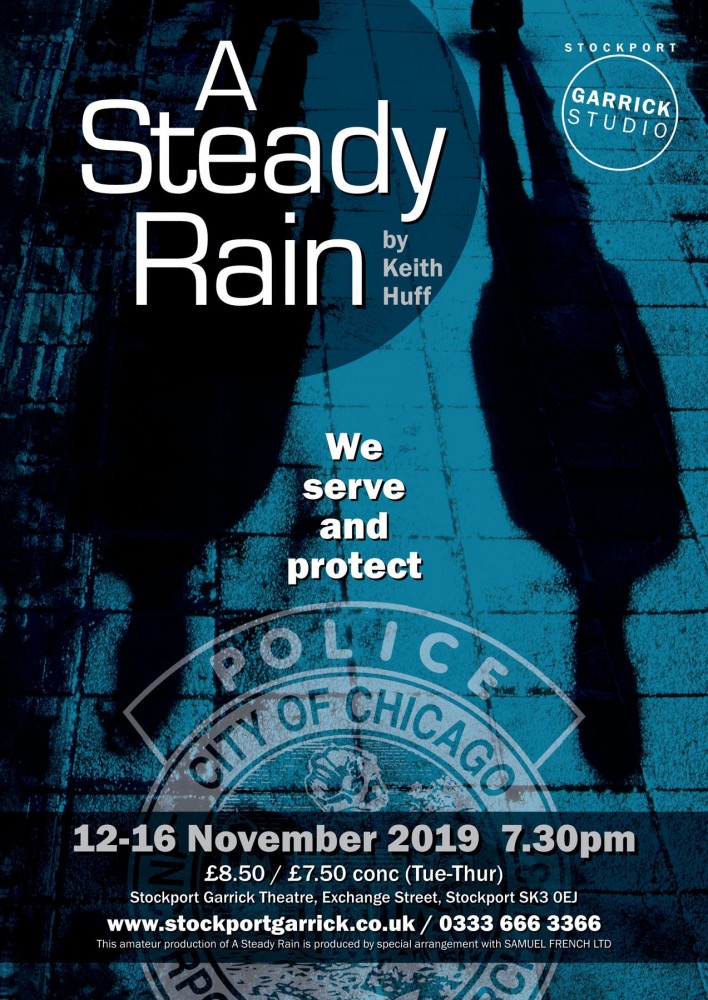 Similar to a real-life event involving American serial killer Jeffrey Dahmer, two Chicago policemen discuss their role in a traumatic case in which they inadvertently return a Vietnamese boy to a cannibalistic serial killer claiming to be the child's uncle.
A gripping drama, this strongly written play enticed cinematic giants Hugh Jackman and Daniel Craig to take the roles of the Chicago cops for its Broadway premiere in 2009.
(Contains strong language and deals with adult themes)
Tickets are £8.50 each, £7.50 concession (Tue-Thur).
FREE car parking available next to the Garrick at Applicon House on Exchange Street from 6.30pm.
To book online click here (no booking fees with e-Ticket option).
To book by phone, call 0333 666 3366 (horsted by TicketSource. A flat £1.75 fee will be levied which includes postage where applicable).
The Garrick Box Office is open from 6.45pm on show nights.
Stockport Garrick Theatre, Exchange Street, Stockport SK3 0EJ
~ share